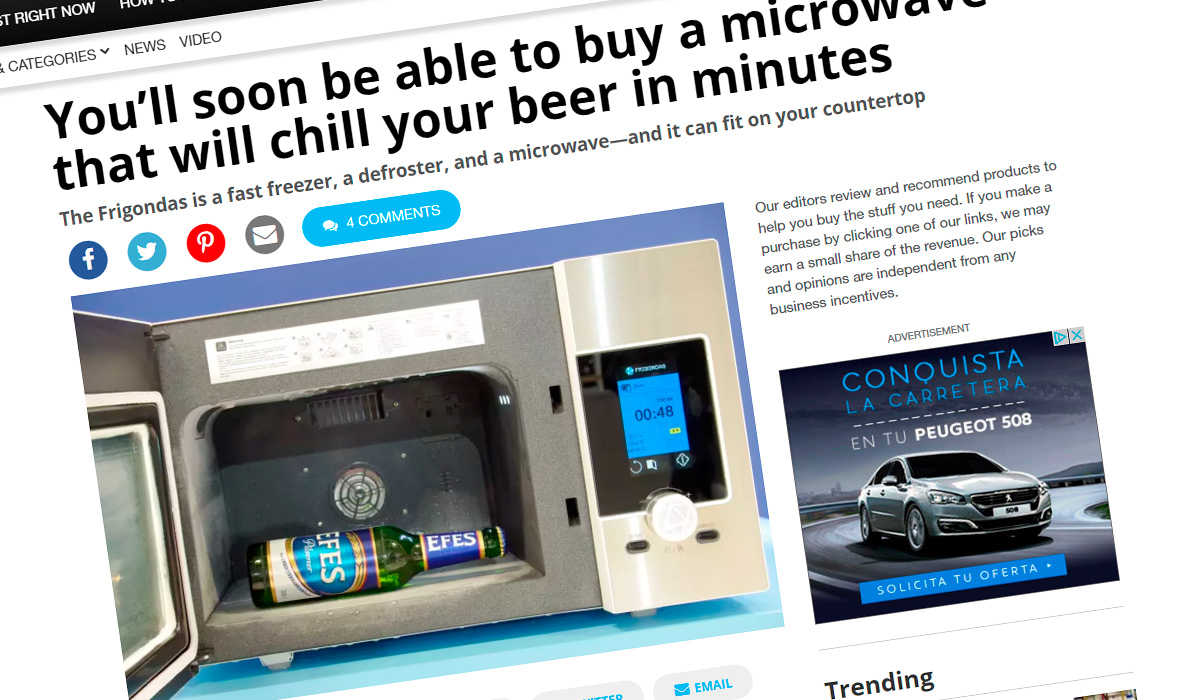 Frigondas in Reviewed.com
The Frigondas is a fast freezer, a defroster, and a microwave—and it can fit on your countertop.
If a microwave can also chill a room-temperature beer down to 37ºF in just six minutes, is it still a microwave?
Well, this one is. The Frigondas is a new countertop appliance that looks just like a microwave, and even heats food just like a microwave. But if you press a button on the control panel, the Frigondas can cool drinks and flash-freeze fresh food in seconds.
The Frigondas was designed by engineers in Spain and its built in Korea (the name is a portmanteau of the Spanish words "frigorífico" and "microondas"—refrigerator and microwave).
The patented kitchen appliance combines a traditional microwave and a blast chiller, a device that's popular in restaurant kitchens. Professional chefs love blast chillers because they cool food so quickly that water doesn't evaporate in the process, so food tests fresher when it's defrosted.
The designers of the Frigondas claim its dual evaporators and unique fan design can freeze fresh fruits and vegetables in just six minutes, a process that takes almost 15 times as long in most home freezers. Ice takes just 12 minutes—and, most importantly, it'll chill your beer in six minutes. That makes it ideal for RVs, boats, and vacation homes.
Still, blast chillers haven't caught on in home kitchens—even among foodies, likely because they take up a lot of space. By combining a blast chiller and microwave, Frigondas put two specialty appliances in the same footprint—about the same width as a microwave, but around six inches deeper—and we think that's a stroke of genius. A built-in version will also be available.
It can also act as a refrigerator and an automatic defroster. We tried some berries and some watermelon that had been frozen and defrosted in the Frigondas, and they were almost as delicious as fresh ones.
Unfortunately, there's no way to program the Frigondas to automatically cook food once it's defrosted. We like the idea of putting a frozen side in the microwave before leaving for work, and coming home to food that's ready to eat. Still, the features this microwave-freezer hybrid offers are already pretty cool.
The Frigondas isn't on sale yet—heck, the company doesn't even have a public website yet—but it should cost around $1,000, and its creators are already working to get it certified for the U.S. market and find a distributor who will sell it. We'll let you know as soon as they do.
View original in Reviewed.com